Sunshine and warm weather make Barcelona a top destination for travelers. This also means it is a fabulous city for biking.
We rated for you to ride in three categories: family-friendliness, personalization & value for money, always rated from 1 to 5. Find your favorite from the 7 best Barcelona Bike Tours.
You might ask yourself:
Why should I use a bike?
Well, first of all, biking improves well-being, boosts endorphins and stimulates your mind. The culinary delights around Barcelona are a pleasure, but it is certainly easy to pack on the kilos when you travel.
Biking burns calories and promotes weight loss while also leaving you feeling energized for your trip.
Burn off that large paella you had the night before with a few hours of cycling through the magical neighborhoods of Barcelona.
Exercise like cycling rushes blood to your brain, making your mind sharper and ready for new information. This is a great benefit, as you learn many new facts about the city you are exploring.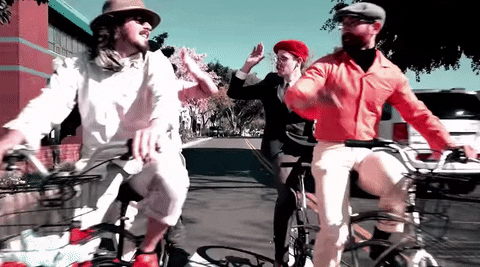 Biking is also an environmentally friendly way to see any city!
But why should you try a Barcelona bike tour?
There are windy streets and hidden gems offered by this vibrant city that you can´t see by bus or car.
Professional guides will explain to you what you are seeing, making these Barcelona bike tours that much more impactful. Soak up the sun and their expertise as you glide through the city on two wheels.
Now that we have covered the benefits of cycling, let´s dive into the various options in Barcelona.
There are various Barcelona bike tours, so choosing can be overwhelming.
This guide is meant to help you choose the right Barcelona bike tour that match your interests and desires, making your trip to Barcelona stress-free and filled with lasting memories.
We present our 7 favorite Barcelona bike tours with a short description of each. We are rating them on the following benchmarks:
Family friendliness, Duration, Prices, and Tour options
So sit back, relax and enjoy our advice and expertise as we now kick-off our top picks starting with a Quick Comparison Breakdown:
So since this is done, let's dig real deep into those tours:
1. Steel Donkey Bike Tours
Steel Donkey Bike Tours are in a league of their own.
Being the first alternative bike tour in Barcelona you will never experience the same tour twice. The guides take you off the beaten path, where you will discover veiled jewels in Barcelona.
Skip touristy spots like Sagrada Familia that you have already seen and get a truly authentic feeling of the local culture. The destinations vary depending on your tour guide, therefore you could go on multiple Steel Donkey Bike Tours and have completely different experiences.
It is likely you will explore neighborhoods that were not on your radar or in your travel books while enjoying your Barcelona bike tour. Art, culture, architecture, and the expertise of your guide create a beautiful experience for any traveler.
While exploring the markets or where you can see the most stunning street art, learn about traditional Catalan history as well as how a neighborhood was shaped through time.
Halfway through the Barcelona bike tour, you will take a break with a drink and snack at a local café. Cozy groups of no more than eight embark on this bike trip, adding a more personalized feeling than larger tour groups. The guides are all locals and they are simply showing you their city with their eyes.
Traveler´s checklist:
Family Friendly: Yes, the leisurely pace of this trip is appropriate for the whole family. Children´s bikes are available as well as baby seats & tandems.
Duration: 4 hours
Price and tour options: 35€ on a typical city bike, 45€ on an e-bike. Every day at 10.00 am
How it compares to our list: This tour offers flexible departures. If you would like to request a different time with your private group or request a time that is not listed on the website, simply email the company.
BCN Travel average rating: 4.83/5
2. eBike Photography Barcelona Bike Tour
For those of you interested in photography and capturing the best pictures during your trip, this Barcelona bike tour may be the perfect match for you.
Guided by a professional photographer, learn tips and tricks to enhance your photography skills. Barcelona is the perfect canvas for photography in both its natural beauty and the historical city neighborhoods.
This Barcelona bike tour features e-bikes, therefore you can have a little boost as you pedal. Sagrada Familia, the Gothic Quarter, citadel park, and stunning beaches are just some of the stops you will make on this photography tour.
Halfway through your four hours of biking and picture taking you will stop for a light snack and drink.
Gaudí´s architecture is so powerful, colorful, and mesmerizing, it is hard to capture its beauty in a photo. Lucky for you, your professional guide is going to make sure these stunning works stimulate the same feelings in your pictures as they do in real life.
The Modernism Route is rich with architecture you have likely never seen before. Gaudí had a truly authentic style, which is a hallmark of Barcelona. Viewing his works will leave a mark on your soul, in some cases leaving you speechless.
Thankfully, your guide will make sure you can pack all of these emotions into photos that you will always cherish.
This tour ends at your original point of departure. You will receive the photographs taken during your ride, memories that will last a lifetime.
Traveler´s checklist:
Family Friendly: Children must be accompanied by an adult, but there is no minimum age for children to participate.
Duration: 4 hours.
Price and tour options: From €65 (kids are €45) offered Monday-Saturday at 10:00 or 16:00. This is a private tour, therefore only you and your group will participate. The minimum number of participants booking is 2. The price includes a tapas snack with a drink and an e-bike.
How it compares in our list: This is the only tour where you have access to a professional photographer as your guide. It is a great option for those of you traveling with a group, family, or friends. If you are looking to meet new people and you´re on your own, this is not the Barcelona bike tour for you.
BCN Travel average rating: 4.5/5
3. Barcelona Bike Tour with Tapas & Drinks:
This exciting Barcelona bike tour captures all of your senses in beautiful Barcelona: taste, smell, touch, sight, sound.
Taste the famous tapas and refreshing drinks that have become an international sensation of culinary delight.
Smell the sea as you bike through the historic fishing district of Barceloneta.
See the series of exhibits about 18th-century life in the city at El Born Centre Cultural.
Listen to the bustling, vibrant market stalls lined up on Las Ramblas.
Touch the beautiful greenery in the Ciutadella Park, home to the Parliament of Catalonia.
For this bike tour, meet in central Barcelona where the office is located. These bikes look and feel like any other bike, however an electric motor kicks in when you start pedaling, making the workout less intensive.
Cultural attractions, art, and stylish and historic neighborhoods are a few of the Barcelona treasures you will discover through your guide´s expertise.
This tour combines the rich history of Barcelona with its tapas tradition, satisfying both your appetite and your curiosity. An old-school tapas bar in either Born or Barri Gòtic is your final resting place. Here you will taste three traditional tapas while sipping on three drinks of either wine or soda.
What better way to end your tour of Barcelona than with local delicacies and treats from the region?
Traveler´s checklist:
Family Friendly: Children should be ten years old to participate in this tour, therefore baby/toddler seats are not on offer.
Duration: Approximately 3.5 hours.
Price and tour options: Starting from 59€ (this includes the tapas and drinks as well as the e-bike). Departs every day at 16:00.
How it compares in our list: This tour combines some of the lovely elements of Barcelona all rolled into one. Participants experience the joy of biking, the stimulating dialogue in visiting sites and finally, the tour is topped off with quintessential Spanish tapas and drinks. It is also helpful that everything is included with the price.
BCN Travel average Rating: 3.67/5
4. Bicing:
Important information to note: Bicing is designed for locals who have either a Spanish identity card or a N.I.E. which is the card received by foreigners living in Cataluña. So if you don't have either one, this is not an option for you.
On a budget or want the freedom of being your own guide?
Bicing is a great option for you.
In 2007, Barcelona inaugurated Bicing, which is a bicycle sharing system modeled after similar systems in other European cities. Bicing bicycles are easy to spot around the city. There are many stations where they are parked in a line on bike racks.
The bikes are red and white; therefore, they are unmissable! Users can pick up and drop off the bikes at any of the 421 stations throughout the city. The Bicing app allows you to plan your routes, figure out the best place to pick up the bikes depending on where they are available, and mark your favorite stations.
You can design your own bike tour for you and your friends, giving you more freedom and independence to explore. Click here for some great example routes. When you´re done, simply drop the bike off at one of the stations and be on your way.
Traveler´s checklist:
Family Friendly: Bicing is not a family-friendly option, as all of their bikes are the same size.
Duration: You can ride for up to two hours straight on a bike, after that you have to check your bike out, but you can check right back in!
Price and tour options: The cost is 47€ per year
How it compares in our list: This is your tour in whatever way you choose. It is the ultimate freedom, as you can hop on the bike and explore the city on your own terms. Unlike the other tours in this article, you will not get the knowledge and expertise of a guide.
BCN Travel average rating: 3.66/5
5. eBike, Boat & Cable Car Tour:
Is the Mount Montjuic cable car a must for you in Barcelona? Do you love the fresh, open sea air? Want to go on a Barcelona bike tour as well? This tour is for you!
Cataluña has it all in terms of geography with its jagged mountains, the Mediterranean Sea, and palm trees lining the streets. Why not explore mountains, sea, and air all in one day?
This exciting adventure starts with an e-bike ride to Montjuic Mountain. Hop on a cable car and see the city from the sky. Once you arrive at the top, you will explore the Montjuic Castle and the Olympic Ring.
After looking at the sprawling city from the mountain top, it is time to ride down to the harbor where your boat will be waiting for you. Barcelona´s skyline sparkles in the distance, as you cruise around on the deep blue Mediterranean.
You will arrive at the Olympic Harbour where the next phase of your tour begins. On your e-bike you will pedal your way to popular tourist attractions such as Sagrada Familia and La Pedrera.
You´ve admired the city afar on the boat and on the mountain; now it is time to get up close and personal! Viewing Sagrada Familia for the first time is a powerful experience. While it is a major tourist attraction, its popularity is for good reason.
You won´t be disappointed with the beauty and authenticity of the Gaudí architecture you will see on this tour.
Traveler´s checklist:
Family Friendly: This tour is child-friendly; it is a perk that kids can go for free.
Duration: 3.5 hours.
Price and tour options: The price is 49.50€. Kids under 20kg are free of charge. The tour runs every day except Monday. It starts at 10:00 am. The price includes the e-bike, boat and cable car tour.
How it compares in our list: Combining, land, air and sea is an obvious mark for the tour. For families on a budget or families looking to save some extra euros, it is certainly a great choice, as many tours charge fees for children.
BCN Travel average rating: 4/5
6. Fat Tire Barcelona Bike Tour
Fat Tire is a well-known bike tour offering in Barcelona. This is a good option for those travelers interested in seeing the typical sights and tourist hot spots.
The knowledgeable guides will ensure that participants see the popular highlights that Barcelona has to offer while answering questions regarding your trip.
This Barcelona bike tour is appropriate for all ages and experience levels. During the tour, you will make a stop (cost not included) for some refreshments and a nice break. This bike tour includes everything you would want in terms of checking off your sightseeing list, however, there is not as much diversity as some of the other tours on this list.
If you are in Barcelona for a quick trip and want to ensure you hit all touristy spots, this is a good choice.
Traveler´s checklist:
Family Friendly: This tour welcomes people of all ages and sizes. There are various sized kids bikes available, child seats on the bikes as well as child trailers.
Duration: Approximately 4 hours.
Price and tour options: From 28€. 26€ for children (4-12) and students (student ID required). Infants and children up to age 3 ride for free.
How it compares in our list: Expect a larger group on this tour. This can mean that it feels less personalized with your guide. It can also feel more overwhelming for less experienced bikers.
BCN Travel average rating: 3.17/5
7. E-Bike, Beach and Wine Tour
Cataluña is known for its gorgeous wines, there are plenty of vineyards in Cataluña just waiting to be explored. Combine the fun of biking with the beauty of the sea and the taste sensations of local wines.
This tour takes you along the coastline, which is an easy and picturesque bike ride. Beginning at the Gothic Quarter, you will hop on your e-bike and ride outside of the city along the glittering Mediterranean Sea and its sandy beaches.
This tour takes you towards Alta Alella, which is nestled in the protected Park of Serralada de Marina. The 90-minute journey is broken up with a seaside stop for some authentic Catalan vermouth. Enjoy the authentic taste while snapping photos of the sea crashing on the rocks.
Your final destination is a family-run organic winery. While you learn about the process of winemaking, take in the lovely scenery on the vineyard and soak up the fresh air outside of the city.
This particular vineyard boasts wine that is listed on the wine menus of some of the most prestigious restaurants worldwide. Presented to you by a professional sommelier, are three different wines, all evoking different taste sensations and smells.
This Barcelona bike tour is a truly magical experience, taking you out of the bustling city and into nature via the breathtaking seacoast. After your delicious wine tasting experience, you will take public transport back (this is included in the price) along the same route you biked. Relax on the train after your stimulating day full of adventure.
Traveler´s checklist:
Family Friendly: While this tour does offer a discount for children and has no restrictions for age, this could be a long day for young kids.
Duration: 5 hours
Price and tour options: 49.50€ for adults and children under 20kg are free. The price includes the guide, e-bike, vermouth by the beach, guided visit to the vineyards, 6 wines for wine tasting and a train ticket for the way back. This Barcelona bike tour runs from March to October every day. Every tour starts at 9:00.
How it compares in our list: Of course, this is the only one that offers a wine tour and a train ride back to the city. While many of the other tours are focused on the city of Barcelona, this tour takes you out of the city. This means more space, freedom, and less stress than biking in a populated city.
BCN Travel average rating: 3.5/5
That's it from us folks. If you would like to read more about the different bike options you have in Barcelona click here.
Now it's your turn, hit the pedals and explore Barcelona the two-wheel-way!
Don't hesitate on giving us feedback, let us now which tour you chose and how you experienced it. 
Or is your favorite tour missing here? We would love to try it out ourselves then!
Christian Petzold is a successful touristic entrepreneur, experiential traveller and round-the-world backpacker. He holds an academic degree in tourism management.
His touristic expertise has been covered in radio, newspaper and television.